Knowledge Base
How to use headphone cueing (preview) with Torq LE (MixLab)
Text size
[-]
[+]
For serious DJing, you need a sound card that features separate stereo outputs for pre-listening (cueing) and for the sound the audience hears. The majority of built-in sound cards only offer one stereo output. Torq still allows you to use all of its features, including pre-listening, by using a trick: Torq splits your sound card's stereo output into two mono outputs – one for pre-listening and one for the audience.

All you need to follow the examples in the tutorials is a Y-adapter cable that connects to your sound card's stereo output via a male 1/8" jack and provides two female 1/8" or 1/4" mono jacks for your headphones and your sound system. You can find such cables at every well stocked electronics- or music store. Since it is likely that your speakers and headphones have stereo connections, you would also benefit from having stereo to mono adapters for each device in order to hear the output signal on both sides (left & right).

One way to set this up would be with a stereo 1/8" to dual 1/4" mono adapter: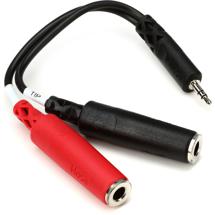 Most computer speakers and headphones have stereo 1/8" connections. In this case, you would also need two 1/8" stereo to 1/4" mono adapters, 1 for your headphones, and 1 for your speakers.



Connect your speakers to the Gray (Left output channel) connector and your headphones to the Red (Right output channel) connector. Without the stereo to mono adapters, you would only hear music out of the left speaker, and the right side of your headphones.


From Torq LE's Audio Preferences, you need to select your Audio Interface (sound card) and assign the outputs as follows:

Windows XP



Note: Your selection for audio interface may differ

Mac OS X




In this example, assigning the Master Output to Left (PC) or output 1 (Mac) allows Torq LE's Master Output to playback through your speakers plugged into the Gray connector of the Y-cable. Assigning the Cue Output to Right (PC) or output 2 (Mac) will allow you to cue (preview) a song in your headphones plugged into the Red connector of the Y-cable.


While this setup will allow you to preview tracks without hearing them through your speakers, a sound card with separate stereo outputs, such as the M-Audio Fast Track Pro is recommended.